Alida is a 4th year PhD Candidate from PEEC, working in the Roca Lab and collaborating with the Malhi Lab on ancient DNA projects. Her research focuses on the genetics and genomics of modern and ancient wildlife, including modern and ancient African elephants, 2000 year-old salmon from Alaska, the Tsavo man-eating lions from Kenya, ancient canids, and shipwreck ivory. Alida is especially passionate about wildlife conservation and the human-wildlife interface.
What I've been up to this past week:
This past week was absolutely epic – I was in Kruger National Park in South Africa (SA) with my mom and dad. If you don't know (or couldn't guess from my peculiar accent), I am, in fact, very proudly South African. I visited my parents on our farm in the North-West province of SA and we spent the last week of my visit in Kruger, staying in 4 different "camps" including Mopanie, Letaba, Satara and a tented camp called Tambotie (my all-time favorite). We saw the most incredible birds and mammals, and this trip was probably the most rewarding trip I've ever had in Kruger. I have done a lot of fieldwork in Kruger (collecting elephant poop for DNA analysis), but many of the animals we saw on this trip were "lifers" for me (aka if you're not a birder, "lifer" pronounced LIFE-ER refers to the first time you see an animal/bird in your life). I've also spent the last couple of days packing for my track back to the States which includes a not-so-epic 17-hour international flight, a 3 hour domestic flight, and a 4 hour bus ride.
What's a fun thing you did this past week?
The most fun (and also funniest) thing that I did this past week was spend 2 hours watching white rhinoceroses mate. We were on our way to our final camp when we happened upon 3 rhinos blocking the road. Two things that I've learned from this experience is that 1) it takes a really long time to do the deed if you're a rhino, and 2) it doesn't matter how you rationalize it as a biological process, it's still awkward watching rhinos mate in the presence of your parents.
Rhino poaching is an epidemic in this park – we saw many anti-poaching teams (even a canine team!) during our visit. Feel free to chat to me at GEEB happy hour if you want to know more about rhino conservation and how you can help.
We also had an amazing encounter with two honey badgers that came to raid the trash while we were eating dinner one night. Honey badgers are fearless, they take on lions and snakes all the time:
To celebrate my birthday, we went on a guided night drive and saw three fat, lazy male lions and a beautiful healthy male leopard:
We also saw a VERY large buffalo herd (>200 buffalo I would guess), and lots of elephant family herds.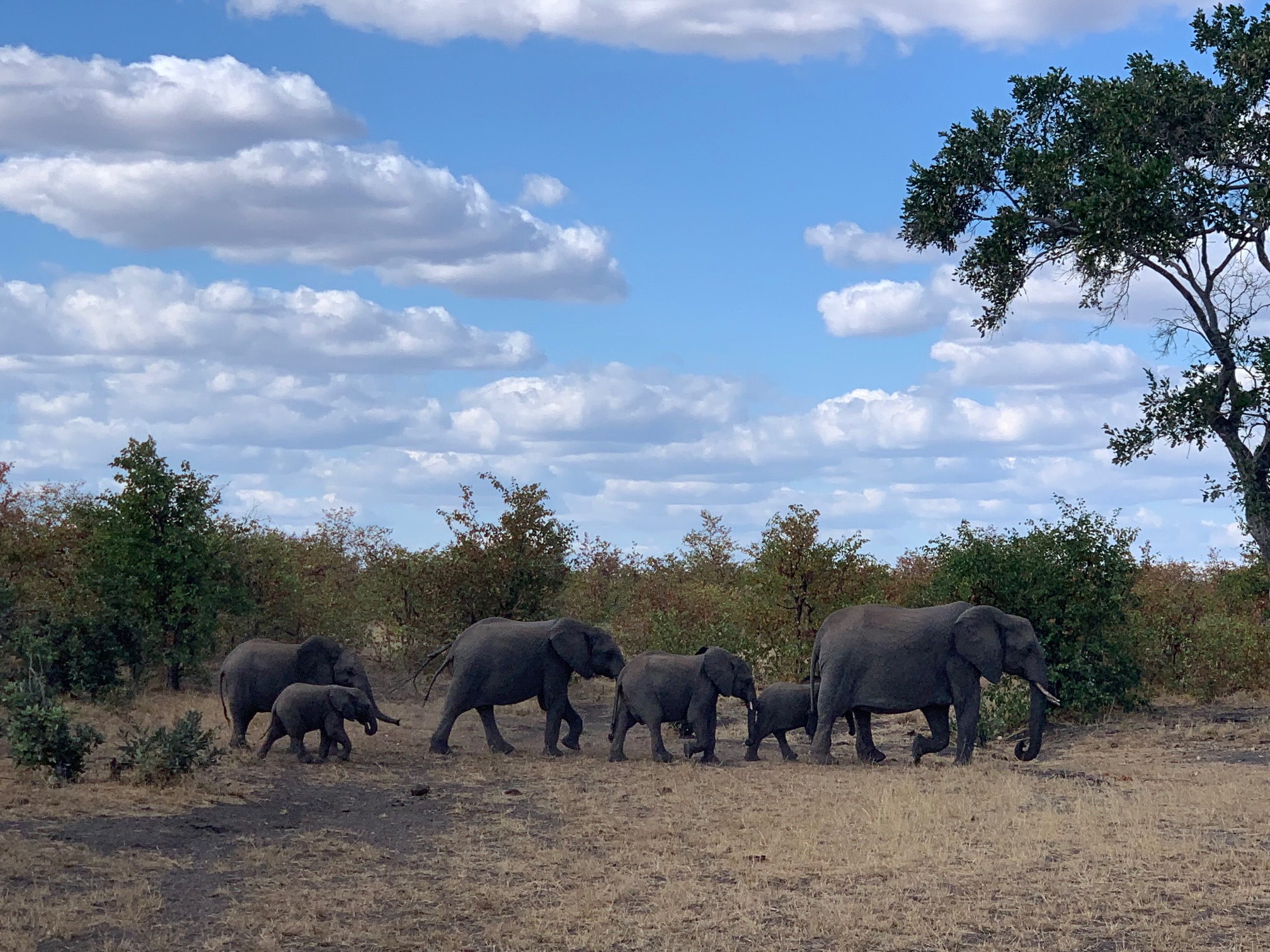 Do you have any pets?
Another big part of my trip to SA was catching up with my best bird friend. He is an African grey parrot and his name is Wolraadt. Here is a pic of him during one of our chicken-feeding excursions on the farm. He is a free flight parrot, meaning that his wings aren't clipped and he can fly if he wants to, but he usually just sits on me when we walk around outside since he thinks that we are in a flock.
What are your hobbies?
I love arts and crafts in general, and my favorite hobby is jewelry making. I have some silversmithing experience and have a small jewelry bench set-up in my apartment here at UIUC. My mom has a very well-equipped studio on the farm and here are two pieces that I made for her (purple amethyst) and for me (green onyx) while I was in South Africa:
A view of your week:
A "view" (get it 😜 ) of my week: $6 Breakfast (including coffee and condiments) and breathtaking panoramas.
---