To add an event, please contact Tolulope Perrin-Stowe at tperri2@illinois.edu
UPCOMING EVENTS
20th Annual GEEB Symposium
Time and Date: Saturday, 8am – 6pm, Natural History Building 2079, February 10th, 2018
PAST EVENTS
Use your feet for a foot charity event!
(Date: October 11, 2014, Time: 1-5pm, Location: Dodds Field)
Brendan Morris is an effervescent 26 year old, high achieving, community volunteer, and student working on his Masters of Entomology at the University of Illinois Urbana-Champaign. Here at UIUC he inspired and energized everyone around him. Before his accident Brendan dedicated his time to being an academic and volunteering for the nonprofit organizations, Caribbean Student Environmental Alliance, and the UIUC Entomology Graduate Student Association. His passion in these endeavors is to teach children about local insects and spiders. However, due to a debilitating accident on August 22, 2013, his life was put on hold as well as his dream of finishing his MS degree this past year.
Brendan's accident, just one year ago, fractured several bones and even with therapy and an incredibly positive attitude he eventually needed to have his left leg amputated below the knee. Eventually, he will require multiple prostheses to get back to normal activities of academics, volunteering, and his active outdoor life! While his insurance will cover a portion of the first prosthesis, additional prostheses will be paid for out of pocket. Unfortunately even with insurance, his injuries were extensive enough expenditures (deductibles, copayments, prostheses) have been extremely high. Brendan is doing everything he can to get well and back on his feet – and he needs our help!
The Graduate Students in Ecology and Evolutionary Biology along with the Entomology Graduate Student Association are asking you to Use Your Feet for a Foot! Please come out and support Brendan by playing kickball or buying a t-shirt and cheering on the teams.
Thank you to everyone who donated, participated, and came out to support the USE YOUR FEET FOR A FOOT CHARITY EVENT!
It was a great success and we raised enough money to cover at least a third of Brendan's new leg socket!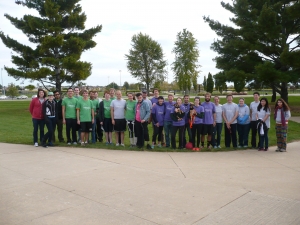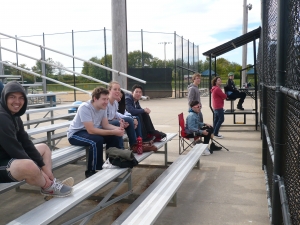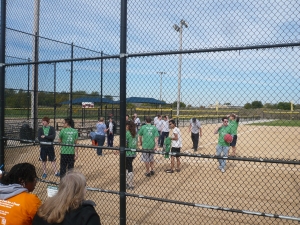 Sponsors
Champaign Parks District, EGSA, GEEB, PBAGS
GEEBers,
The GEEB officers are requesting your help raising funds for outreach and ecolunch. Broader impacts (outreach) are an important part of graduate training and are now required at all levels of NSF and other funding. As a group GEEB has strived to stay ahead of the curve and provide outreach opportunities to our members. Over the last four years GEEB has developed relationships with the Urbana Free Library, the Central Illinois Girl Scouts, the Urbana Farmers Market, Orpheum, and local schools. We are creating a positive image of SIB and UIUC within our local community. However, providing these opportunities comes at a cost. Currently you and your fellow GEEBers are not only donating their time, they are covering costs of supplies and travel. We are raising funds to help with these expenses.
In addition attendance at EcoLunch is down. Hopefully you already know that we host a weekly seminar series. This community building creates lasting colleague relationships and provides excellent practice for job talks, presentations, and features the occasional workshop. However, as a group we are not taking advantage of this seminar. It is disheartening when presenters take the time to put together a 30 min talk and there are only 2-3 audience members to give feedback and provide insights. To help bribe y'all into attending we want to start providing doughnuts/treats and coffee. This also takes cash. So…
As per my previous email we are going to be putting out a calendar featuring GEEB members images. In addition we need images for the cover of the symposium program and we are planning to sell (aka collect donations) postcards of student images at the farmers market and at PEEC events. If you send me an image you are allowing me to use it in one of these ways. If you choose to share your images, please copy and paste the below "form" information into a reply email along with any images you are willing to share with GEEB for these purposes. If you would like to watermark etc. your image with your name please do so before sending them to me – otherwise they will be anonymous. Thank you everyone for your support and if you have any ideas for future fundraising efforts (besides t-shirts) please email Tyler Refsland (refslan2@illinois.edu).
Cheers,
Rhiannon