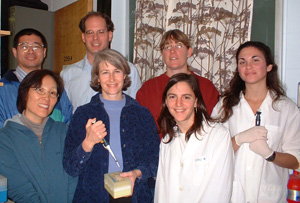 Some past and present members (L to R): Fengjie Sun, Changshook Lee, Stephen Downie, Deborah Katz-Downie, Mary Ann Feist, Carolina Calviño, Gina Colletti
Previous Lab Members
The composition of the Downie Lab group is ever changing. See "Current Lab Members" link for current members of the lab.
Students interested in pursuing graduate work in my lab are encouraged to contact me. See Department Grad Admissions for admissions information.
Undergraduates willing to pursue independent research in my lab should contact me as well. Click Research Courses in IB for more information.

Carolina Calviño studied the systematics of basal Apioideae and Saniculoideae for her Ph.D., with an emphasis on the genus Eryngium (plant in photo)
Laboratory Visitors and Postdocs
Chenyang Liao, Sichuan University (China), Sep 2017-Sep 2018; Taner Ozcan, Balikesir University (Turkey), May 2016-Oct 2016; Qizhi Wang, Huaqiao University (China), Sep 2014-Sep 2015; Hong-Li Chang, Northwest University (China), Jul 2013-Mar 2014; Yue Xu, Jilin University (China), May 2011-Apr 2012; Anthony Magee, University of Johannesburg (South Africa), Aug 2008; Krzysztof Spalik, University of Warsaw (Poland), May 1997-Aug 1997, May 1998-Aug 1998, Jul 2002-Aug 2002, Jul 2003-Aug 2003; Changshook Lee, Seoul National University (Korea), Aug 2002-Jul 2003; Christine Desfeux, Postdoc, Sep 1996-May 1997; Carmen M. Valiejo-Roman, Moscow State University (Russia), Oct-Nov 1995, Jun-Sep 1996; Gregory M. Plunkett, Postdoc, Aug 1995-Aug 1996; Alex V. Troitsky, Moscow State University (Russia), Oct 1995; Kyung-Jin Cho, Korea University (Korea), Jan 1993-Dec 1994.

Fengjie Sun studied the North American genus Cymopterus and its allies for his Ph.D. degree
Previous Graduate Students
Rhiannon Peery, Ph.D. 2015
Mary Ann E. Feist, Ph.D. 2011
Clark A. Danderson, Ph.D. 2011
Jenny M. Cordes, M.S. 2009
Carolina Calviño, Ph.D. 2007
Tiffany Bone, M.S. 2007
Fengjie Sun, Ph.D. 2003
Tricia Hardway, M.S. 2001
Byoungyoon Lee, Ph.D. 1998
Seemanti Ramanath, M.S. 1997

Other Graduate Students Associated with Lab
Vernie Sagun, Ph.D. 2008
Jeongran Lee, Ph.D. 2000
Kurt Potgieter, Ph.D. 1998
David H. Clarke, Ph.D. 1995