Subject Sites
Broad Overview
Artificial Photosynthesis
Oxygen Evolution/OEC/Water splitting
Bioenergy & Photosynthesis
Light-Independent Reactions
PSU/Reaction Centers
Light Harvesting/Antenna
Electron Transfer
Photosystems
Cytochrome/Cyt Oxidase
ATP Synthase
C3, C4, CAM
Chlorophyll Fluorescence
Herbicides
Chloroplast
Pigments/Carotenoids
Rubisco
Whole Plant/Plant Stress
Bacterial Photosynthesis
Evolution
Environment/Climate Change
History/Bios
Sites for Educators/Students
Educational Sites
Lesson Plans
Experiments
Knowledge/Videos/Social Networks
Other
Books, Journals & Magazines
Societies & Organizations
Databases/Genome Projects
Vendors/Commercial Suppliers
Photosynthesis Web Resources
Larry Orr (ASU) and Govindjee (UIUC)
Group Sites
The largest group site, the Arizona State University (ASU) Center for Bioenergy and Photosynthesis, went online in 1995. Formerly known as the Center for the Study of Early Events in Photosynthesis, the center expanded its areas of interest to emphasize bioenergy research into alternative fuels derived from photosynthetic bacterial biomass, the production of hydrogen from photosynthetic influenced model systems, and participation with other ASU initiatives to study climate change and energy sustainability issues at the scientific and public policy levels. In recognition of this evolution, the center changed its name. Its Web site was developed and is currently maintained by one of us (LO) and can be accessed at http://bioenergy.asu.edu. This award-winning site is very comprehensive and showcases not only the operations and work of the center, but also provides original material and numerous annotated links to individual and group photosynthesis research sites of interest to researchers, educators, students and the general public. Early on, the center site was tasked to cover "all things photosynthesis" and this has now expanded to include bioenergy matters and related issues such as climate change and other solar energy topics. One of its most popular items is the educational section that contains links to sites of interest to students and educators and has been annotated as to subject matter and appropriate age-level of understanding (http://bioenergy.asu.edu/photosyn/education/learn.html). Recently, the center added Facebook (http://www.facebook.com/pages/Tempe-AZ/Center-for-Bioenergy-Photosynthesis/121720517379?ref=ts) and Twitter (http://twitter.com/bioenergycenter) pages in order to provide breaking news to the public. Another popular area is its Nicelist, a list of photosynthesis researchers who don't mind receiving and answering emails (hence they are "nice") and includes their email addresses and, in most cases, their Web site URLs (http://bioenergy.asu.edu/photosyn/nicelist.html). Some of the center's other Web pages will be mentioned in the other sections. An artistic representation of the promise of bioenergy from photosynthesis is shown in Fig. 1.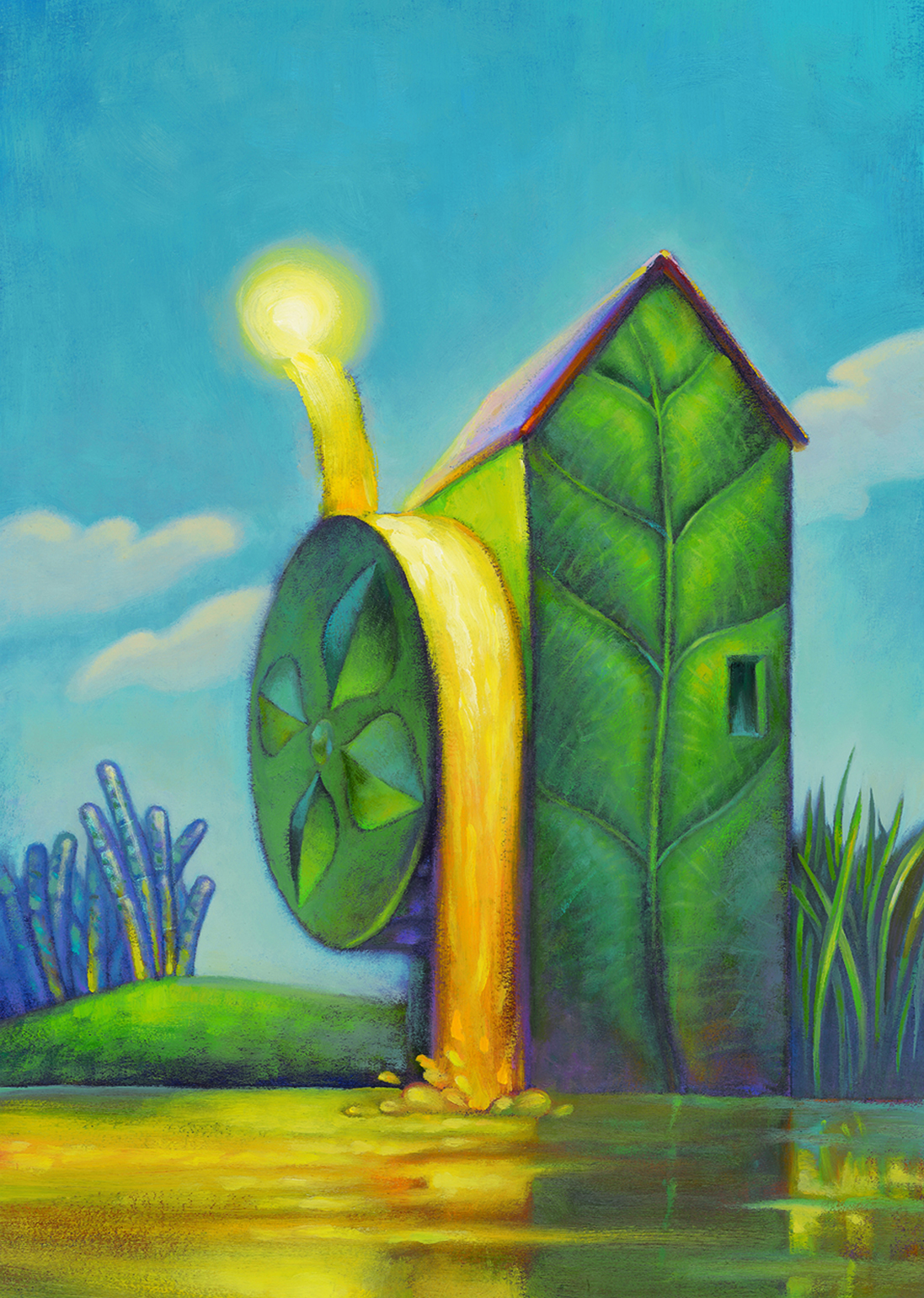 Fig. 1. Artist's representation of the ASU Center for Bioenergy and Photosynthesis (http://bioenergy.asu.edu), showing energy from the sun powering a symbolic sustainable energy green mill. Artwork by Michael Hagelberg, used by permission.
ASU is also the home of a Department of Energy Frontier Research Center (EFRC), the ASU Center for Bio-Inspired Solar Fuel Production (http://solarfuel.clas.asu.edu/), established in 2009. Closely affiliated with the Center for Bioenergy & Photosynthesis, this new center approaches the design of a complete system for solar water oxidation and hydrogen production by applying the fundamental design principles of photosynthesis to the construction of synthetic components, and their incorporation into an operational unit. The functional blueprint of photosynthesis is being followed, using non-biological materials. See below in the "Bioenergy / Biofuels/ Solar Fuel / Biomass" section for more EFRC sites related to photosynthesis and renewable bioenergy research.
Also at ASU, the Polytechnic campus in Mesa is the home of the Arizona Center for Algae Technology and Innovation (AzCATI) (http://www.azcati.com/) and the Laboratory for Algae Research Biotechnology (LARB) (http://larb.asu.edu/), two closely affiliated groups researching various aspects of algal and cyanobacterial production of biofuels and byproducts.
The University of Illinois at Urbana-Champaign (UIUC), home of National Center for Supercomputing Applications (NCSA) and Mosaic (and therefore the "mother" of all modern Web browsers), hosts several important sites. A site by one of us (G) (http://www.life.illinois.edu/govindjee/), is much more than an individual site as it includes information on a variety of topics, including course Web pages, a major tutorial/essay on "The Photosynthetic Process" (by J. Whitmarsh and Govindjee), movies, photos and several items of historical importance including PDF files of Personal Perspectives of some eminent scientists, as well as some obituaries, and brief comments on Robert Emerson, Eugene Rabinowitch, William Arnold, Lou Duysens and Stacy French. There is also a tutorial on "Photosynthesis and Time" and other teaching materials such as slides that can be used in the classroom. A unique resource is the availability of some of Govindjee's older books as well as the classical book on Photosynthesis by Eugene Rabinowitch (source: "Biodiversity Heritage library" on the internet) (http://www.life.illinois.edu/govindjee/g/Books.html). A significant item is the availability of the complete references of all the chapters in Volumes 1–31 of Govindjee's Series 'Advances in Photosynthesis and Respiration' (Springer) (http://www.life.illinois.edu/govindjee/g/References.html); it also includes PDFs of the front matter of volumes 32—35. UIUC is also the home of the wonderful and highly educational site of A. R. Crofts (http://www.life.illinois.edu/crofts/ahab/index.html). The Photosynthesis Research Unit (http://www.ars.usda.gov/main/docs.htm?docid=3333), affiliated with the United States Department of Agriculture (USDA) Agricultural Research Service, covers many areas of photosynthesis crop research. The Theoretical Biophysics Group at UIUC is also present with an excellent site (http://www.ks.uiuc.edu/) with many important pages including "Quantum Biology of the Photosynthesis Unit" (http://www.ks.uiuc.edu/Research/psu/psu.html), animations of various structures (http://www.ks.uiuc.edu/Gallery/Movies/) and much more.
The Photosynthesis Group at Queen Mary University of London, UK (http://queenmaryphotosynthesis.org/) contains much useful information and links as well as interesting pages on ''Light, Time and Micro-Organisms'' (http://jfa.bio.qmul.ac.uk/~john/webstar/ltm/default.html), imaging chlorophyll fluorescence, and much more. Also see the Web sites for John Allen and Jon Nield in the "Individual Researchers' Sites" section.
Uppsala University, located in Sweden, is the home of the Photosynthesis Group (http://www.fotomol.uu.se/Forskning/Biomimetics/fotosyntes/index.shtm), led by Stenbjörn Styring, which studies Photosystem II and artificial photosynthesis. It is also the home of the new SOLAR-H program to bring together laboratories to do basic research on hydrogen production from renewable sources (http://www.fotomol.uu.se/Forskning/Biomimetics/solarh/index.shtm).
The Avron-Wilstätter Center for Photosynthesis Research is located at the Weizmann Institute of Science, Israel. (http://www.weizmann.ac.il/acadaff/Scientific_Activities/2009/wilstatter_center.html) and is working with several groups to study many areas of photosynthesis.
The Artificial Photosynthesis Group at Brookhaven National Laboratory (http://www.bnl.gov/chemistry/AP/default.asp) focuses on designing and characterizing molecular and inorganic components that carry out the various functions of natural Photosystems I and II.
Author Contact Information :
Larry Orr
Manager
ASU Center for Bioenergy & Photosynthesis
LightWorks and Department of Chemistry and Biochemistry
Arizona State University
Box 871604
Tempe, AZ 85287-1604, USA
Phone: 1-480-965-1963
Fax: 1-480-965-2747
Email: larry.orr@asu.edu
Meet the author
Govindjee
Professor Emeritus of Biochemistry, Biophysics and Plant Biology
Departments of Biochemistry and Plant Biology and Center of Biophysics and Computational Biology
University of Illinois
265 Morrill Hall, MC-116
505 South Goodwin Avenue
Urbana, IL 61801-3707, USA
Phone: 1-217-337-0627
Fax: 1-217-244-7246
email: gov@uiuc.edu
Meet the author
This Website is based on the Educational Review: Photosynthesis Web Resources. Photosynthesis Research (2013) 115: 179–214, DOI: 10.1007/s11120-013-9840-3
Please contact the authors with any broken links, corrections or suggestions.