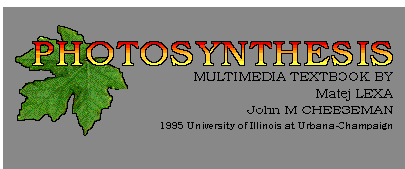 ---
MULTIMEDIA SOFTWARE FOR TEACHING PHOTOSYNTHESIS AT AN INTRODUCTORY LEVEL
John M. Cheeseman, MATEJ LEXA Dept of Plant Biology, University of Illinois, Urbana IL 61801
INTRODUCTION
The increased availability of powerful computers to undergraduate students at many universities, and their frequent use in lectures and laboratories, opens the way for new approaches to teaching, and new opportunities to present difficult material. Two years ago, using Network News, we requested suggestions on the presentation of photosynthesis in introductory courses in two to three hours total classroom time. The overwhelming response was on the order of "if you figure it out, let us know."
Having this in mind, we have developed an up-to-date software package for teaching basic C3 photosynthesis, with a strong conceptual framework. In one version, it can be used as a presentation tool for an overview of the most important processes. As a stand-alone program, with an interface resembling a videorecorder panel controlled by the student, the processes can be explored in more depth at his/her own pace. While the program can be played as a linear sequence of text, images and movies, the more powerful features lie in the use of hypertext and roadmaps.
The program is available for demonstration or adoption.
SOFTWARE DESCRIPTION
Main features:
covers C3 photosynthesis, from dark reactions to light reactions, from macroprocesses to microprocesses
extensive use of highlighted text and images that are linked to more information; this is displayed when clicked upon with the mouse (hypertext)
flexibility of use is increased by the ability of students to jump to specific chapters using a standard Macintosh menu (useful if used in more than one session), to follow highlighted links and then return to the starting frame or to have the computer ask multiple-choice questions
students can figure out how to use it in minutes (and so can you, ask for a demonstration), minimum time to make it to the end is on the order of 20 min, students should know it inside-out after 1-2 hrs of use
accompanied by a shorter flexible text-free version that can be used for presentation purposes in lectures to teach photosynthesis (ask for a copy)

System requirements:
runs on Macintosh machines using system 7.x.x
2MB of memory or more recommended
QuickTime 1.6.1 or newer recommended
should not be used with virtual memory on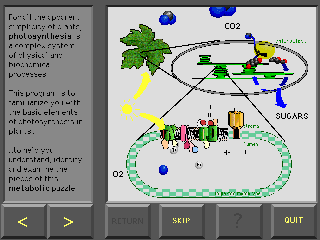 Information is given in two windows. One displays text with highlighted words that can be clicked for more information on the subject. The other displays images and movies. Clicking some of the objects in the images will display more information on them.
One generally proceeds by pressing the right arrow. The left arrow will take you a couple of frames back. The SKIP button works like fast forward, it is useful for those who know the stuff already or get bored by a movie in the middle of it. The RETURN button is used when following hypertext links to get back to where you started your exploration. The "?" button displays multiple-choice questions. The QUIT button is self-explanatory.
Central to the program is a movie of photosynthetic processes at different levels of organization. It is used to summarize several concepts.
It can also be used as a good starting point for a curious student who would like to move around in a non-linear fashion. The following figures show the result of clicking the leaf and the sun on the figure above.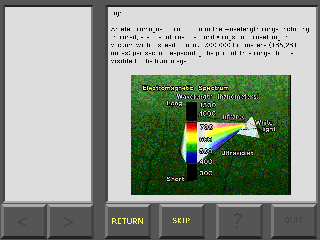 Processes are described from macroscopic level ...
... to microscopic level. From Calvin cycle ...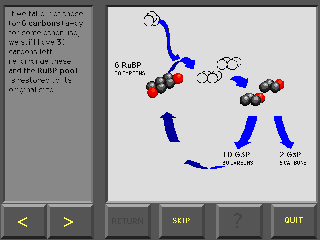 ... to light reactions.
Several frames are meant to be unorthodox and entertaining. The one shown here introduces the student to the idea that learning the "usual" overall equation is not enough to understand photosynthesis.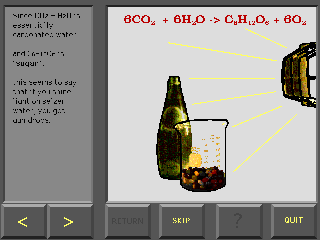 This software has been created using Macromind Director® 4.0 for Mac from Macromedia, Inc. It has been tested in a class of 200 students.
Get a free copy of a text-free demo version that can be used as a source of images and movies for a lecture of photosynthesis. The full length software is intended for individual or group use by students and uses the same images and is available from us at $25+$1/student. To get more information e-mail Matej Lexa at m-lexa@uiuc.edu or send your purchase order or payment to the address at the top of this page.