NITRATE AND NITROGEN SIMULATION PAGE
April 25, 1996
---
Introduction
This page contains information about a mathematical model for simulation of nitrate and nitrogen use by plants. The model and the related grafting experiments are presented in a paper in the Journal of Experimental Botany (June 1997).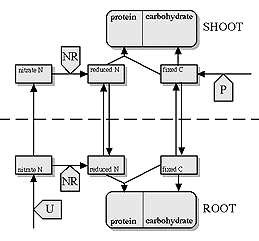 Fig.1 - The scheme of the model

U - nitrate uptake
NR - nitrate reduction by nitrate reductase
P - carbon uptake (photosynthesis)




---
Simulations
We offer you several ways of running our model.
---
Experimental approaches
A visual guide to grafting pea seedlings.
This method is described also in the above mentioned paper.

Fig.2 - Wild-type (left) and nitrate reductase deficient mutant A317 (right) of Pisum sativum L. var. Juneau
---
About the authors
The modelling work presented here has been done by

Matej Lexa
m-lexa@uiuc.edu
and
John Cheeseman